To treat yourself to legumes, you no longer have to worry! We share with you three super gourmet recipes for you to learn how to cook vegetables well in a simple, fast and irresistible way. To your aprons!
What do dried beans, lentils, chick peas, peas, lupins, and broad beans have in common? They are all part of the great family of legumes! Among the approximately 20,000 species that exist in the world, you have many options to choose from. This large family of flowering plants whose seeds are edible has many health benefits.
Rich in minerals, fiber, essential amino acids and protein, legumes are perfect for all your cravings from breakfast to dinner. It is recommended to consume them at least twice a week and they can be cooked in all sauces to vary tastes. From sweet to savory, from appetizer to main course, or even from dessert to snack.
To help you renew your preparations based on legumes, we take you to the kitchen to make three super easy recipes to make at home! Lentil falafel, grilled Asian lupins or chakchouka with chickpeas, which recipe will you enjoy today? It's your turn !
To make these recipes, follow these steps:
LENTIL FALAFEL RECIPE
for 4 people
Preparation time : 10 minutes
Break : 1 night + 1 hour
Time to cook : 3 minutes
Ingredients :
– 250 g of green lentils
– 1 onion
– 2 cloves of garlic
– 1/2 teaspoon of turmeric
– 1/2 teaspoon paprika
– 1 teaspoon of cumin
– 1 CASE of tahini (sesame paste)
– 1/2 bunch of parsley
– 1/2 bunch of coriander
– Oil for frying
Preparation :
1. Soak lentils in water overnight. Lentils do not usually require soaking time – for this recipe, it is done exceptionally to soften them because they will cook for a very short time.
2. Drain the lentils well and place them in the bowl of a blender. Add coarsely chopped onion, minced garlic cloves, turmeric, paprika, cumin, tahini, chopped parsley, and cilantro. Mix until a homogeneous texture is obtained.
3. Let cool for an hour.
4. With wet hands, form balls the size of a two euro coin. If the mixture is too sticky, re-wet your hands.
5. Fry the falafels in a fryer or in a frying pan with a few centimeters of oil, until lightly golden.
6. Place them on absorbent paper to remove excess oil.
7. Enjoy it as an appetizer!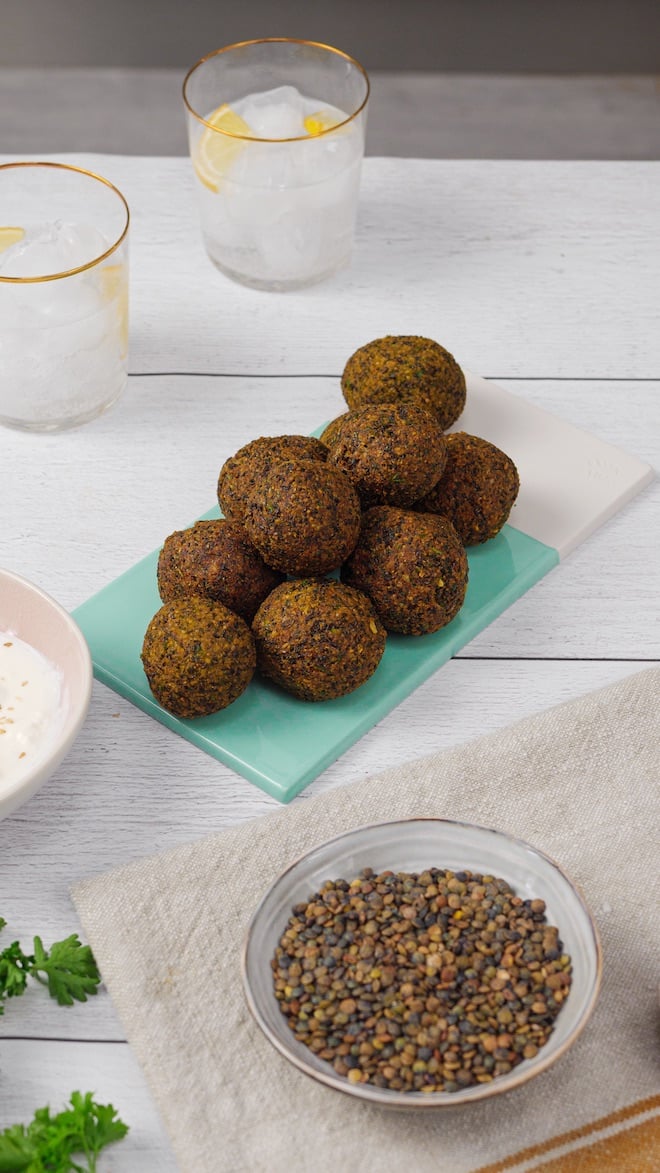 GRILLED ASIAN LUPIN RECIPE
for 4 people
Preparation time : 10 minutes
Time to cook : 10 minutes
Ingredients :
– 400 g of canned or potted lupins
– 3 garlic cloves
– 15ml of sesame oil
– 5 ml of soy sauce
– 1 cm of fresh ginger
– The juice of a lime juice
– 1 CASE of sesame seeds
– 6 sprigs of coriander
Preparation :
1. Rinse and drain the lupins well.
2. Add minced garlic cloves, sesame oil, soy sauce, diced fresh ginger, lime juice, and sesame seeds. Finally, chop the coriander and mix well.
3. Pour the mixture onto a parchment paper lined baking sheet and bake for 10 minutes at 180°C. Stir halfway through cooking so that all the lupins are well toasted.
4. Enjoy hot or cold.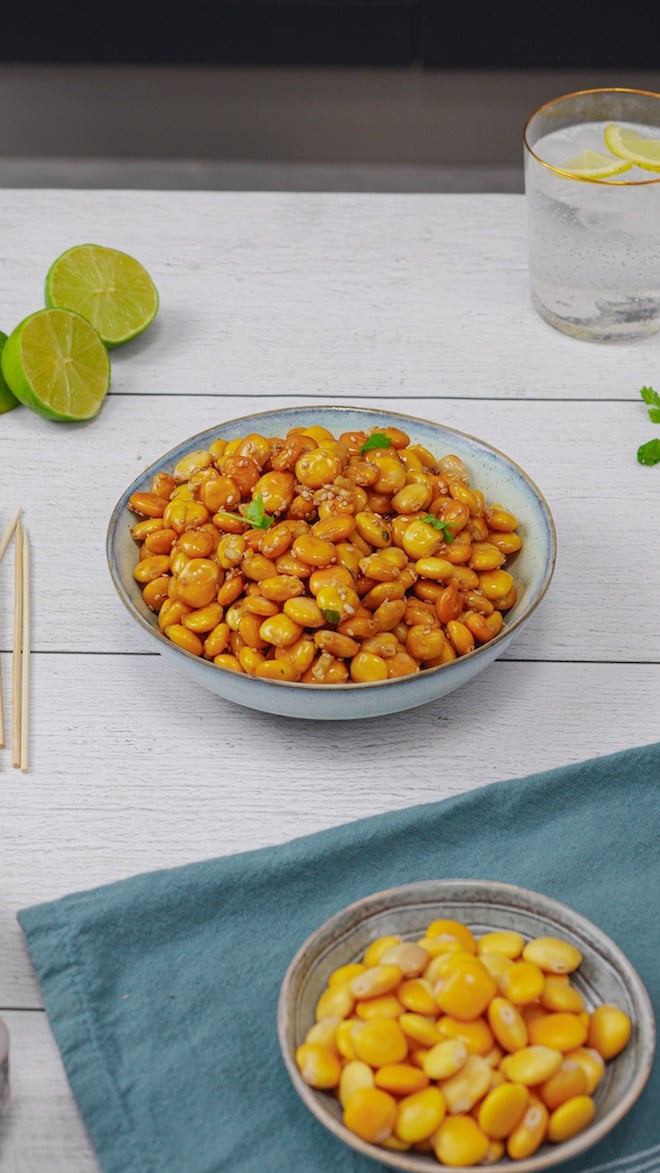 CHAKCHOUKA RECIPE WITH CHICKPEAS
for 4 people
Preparation time : 10 minutes
Time to cook : 15 minutes
Ingredients :
– 400 g of chickpeas already cooked, canned or in a jar
– 1 CASE of ras el hanout
– 1 CASE of paprika
– 1 CASE of cumin grain
– 1 splash of olive oil
– 1 large onion
– 2 cloves of garlic
– 400 g of crushed tomato
– 250ml of water
– 4 eggs
– 1/2 bunch of coriander
Preparation :
1. In a large skillet, add the spices and toast them for a few minutes with the olive oil.
2. Add the onion cut into small cubes and the garlic cloves chopped into small cubes and sauté until they turn colour.
3. Add the drained chickpeas, the crushed tomatoes, the water and mix well. Let simmer for fifteen minutes.
4. Crack the eggs on top and continue cooking covered for 5 minutes.
5. Sprinkle with chopped fresh cilantro and enjoy.